Kim Basinger is laughing off what could have been an extremely embarrassing moment. 
The actress and ex-wife of Alec Baldwin took to Instagram Thursday to share a throwback photo of her at the Oscars in 1999, the year she had a wardrobe malfunction in front of millions. 
During the 71st Academy Awards, Basinger recalled being backstage preparing for her cue from a crew member to enter the spotlight, but a sudden mishap unfolded. 
ALEC BALDWIN'S EX-WIFE KIM BASINGER MAKES RARE COMMENT ABOUT ONE OF HIS CHILDREN IN BIRTHDAY TRIBUTE RESPONSE
"I heard something in the back of my white, floor-length Randolph Duke gown POP…." She stressed in her social media caption.
"I was shaking and I was mortified but I took the stage and I clenched my arms to my sides as tight as they would go… PRAYING… that the dress would not fall off…"
Basinger posted two photos on her account — one of her looking stunning in the strapless white gown with all smiles, and one of her handing off the award to the recipient, actor James Coburn.
ALEC BALDWIN SUED IN 'RUST' SHOOTING: HALYNA HUTCHINS' FAMILY SAYS 'TO LEAVE THIS UNPUNISHED IS UNALLOWABLE'
She continued to reveal how she managed to keep the dress on her body through the embarrassing experience.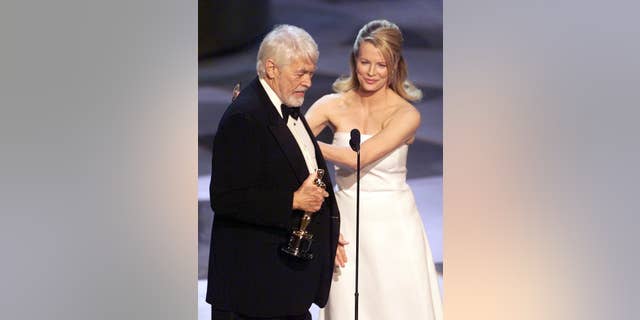 "I held that sucker up all the way through presenting the award to James Coburn… A truly memorable night… for many reasons," Basinger joked with two laughing emojis.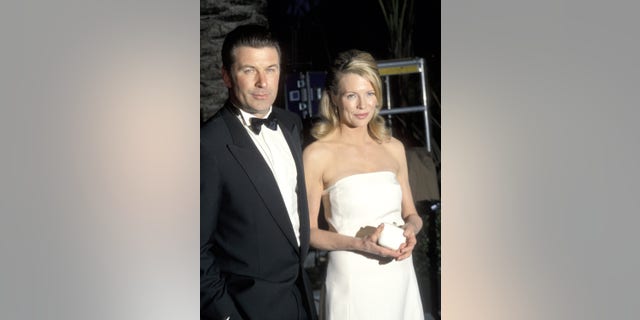 The former model was candid about her fears amid award season and concluded her story with some tips.
"Don't ever forget… most of the time, these people are sewn into their gowns moments before hitting the red carpet… The #1 fear: you'll fall down. #2: The stitches won't hold!"
IRELAND BALDWIN SHOWS OFF FACE INJURY WITH BLOODY SNAP 
In 2002, Basinger and Baldwin decided to call it quits after nine years of marriage. They share one daughter together, Ireland, 27.
CLICK HERE TO SIGN UP FOR THE ENTERTAINMENT NEWSLETTER
The pair endured a tumultuous custody battle over Ireland during their divorce.
CLICK HERE TO GET THE FOX NEWS APP
Baldwin has since remarried and shares seven children with his wife, Hilaria Baldwin.