The 65th annual Grammys and the red carpet is a place for Hollywood stars to showcase their fashion style. 
In 1974, Cher walked the red carpet in a fairy princess ensemble with a butterfly clip in her hair. 
In 2003, Jennifer Lopez wore a green Versace dress still talked about today. In 2019, Cardi B wore a gown that resembled a pearl within an oyster. 
Here's a look back at a few head-turning looks in Grammys fashion history.
DOLLY PARTON SAYS SHE'S DONE WITH TOURING, WANTS TO BE 'CLOSER TO HOME' WITH HER HUSBAND AS THEY GET OLDER
Dolly Parton
Dolly Parton has been attending the Grammy Awards for decades, and in 1977, she brought cowboy chic to the red carpet. 
The country music icon wore a pink and white outfit featuring jewels on the top half. She was nominated for best country vocal performance that year. 
Cher
Cher looked like a fairy at the 16th Grammy Awards.
The singer wore a white shawl-style dress that featured fairy-like wings in the center. She pulled the look together with a butterfly clip fastened in her hair.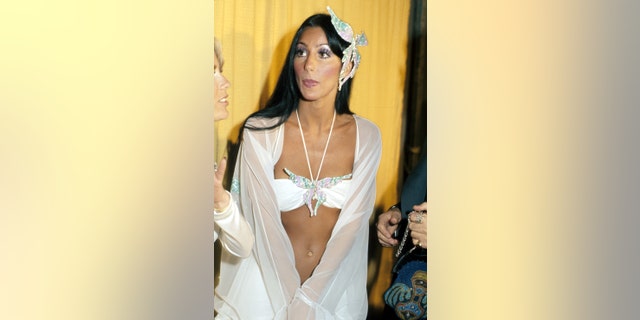 She presented the album of the year award in 1974 to Stevie Wonder for his project, "Innervisions."
CHER, 76, SAYS SHE AND BOYFRIEND ALEXANDER EDWARDS, 36, ARE 'PERFECTLY MATCHED'
Sheryl Crow
Sheryl Crow opted for a two-pice outfit with a leopard-print bottom paired with a sheer covering at the 39th Grammys. 
She won best female rock vocal performance and best rock album in 1997.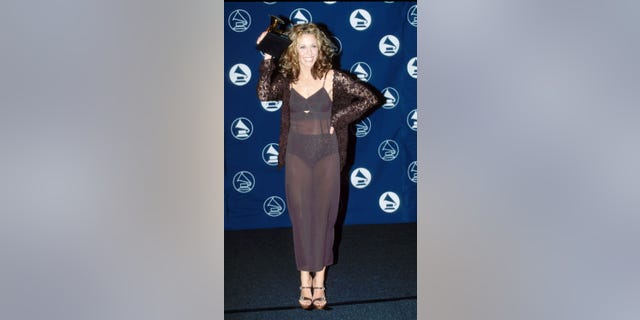 Jada Pinkett-Smith
Jada Pinkett attended the Grammy Awards in 1998, putting her baby bump on display in a two-toned, sequin, see-through gown.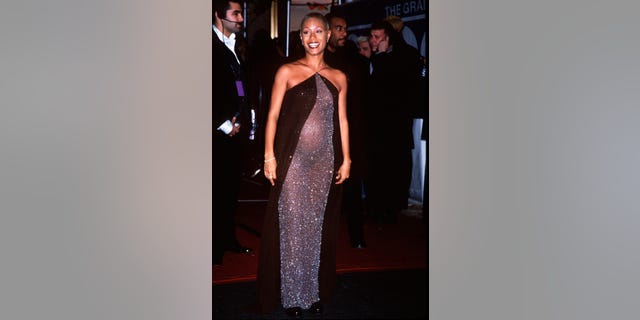 Now a mother of two, she wore the stunning sequin gown with a bright, bold lip.
Pinkett was in attendance supporting her boyfriend Will Smith for a nomination for his song in "Men in Black."
She was pregnant with their son, Jaden, at the time. Smith won a Grammy that year.
Jennifer Lopez
Jennifer Lopez's 2000 Versace gown might be one of the most iconic Grammy looks of all time.
JENNIFER LOPEZ PREVIEWS NEW 'THIS IS ME…NOW' ALBUM, FEATURING SONGS INSPIRED BY BEN AFFLECK
The deep-plunged, Versace gown was so popular, it sparked the creation of Google Images due to the high search volume following the award show.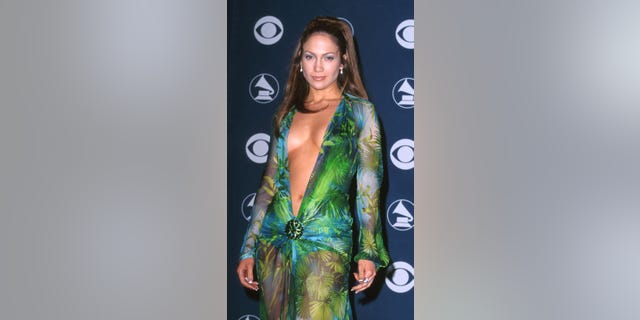 Lopez was nominated for her first Grammy Award in 2000.
Lady Gaga
Lady Gaga attended the 52nd Grammy Awards in a futuristic Armani Privé dress with neon-yellow hair.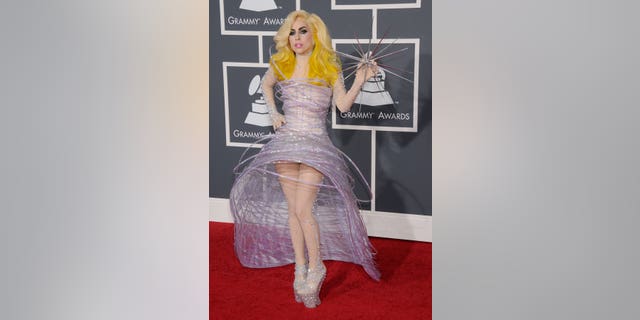 She paired the lavender, galactic-style gown with sequined high heels. She held a pointed object as she posed for photos on the red carpet.
The "Just Dance" singer won her first two Grammy Awards that night in 2010.
Rihanna
Rihanna wore a barely-there white dress to the Grammys in 2011.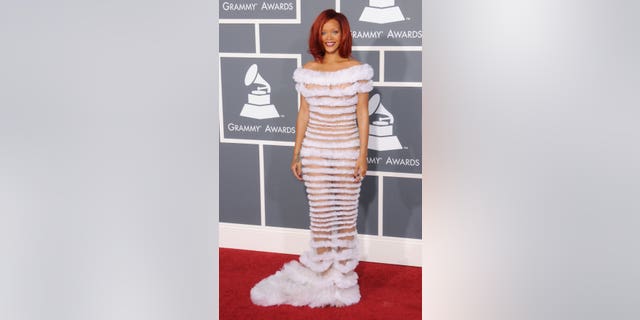 The Fenty Beauty founder wore a sheer Jean Paul Gaultier gown and rocked her signature red locks.
Madonna
Madonna was the focal point of the Grammys in 2015.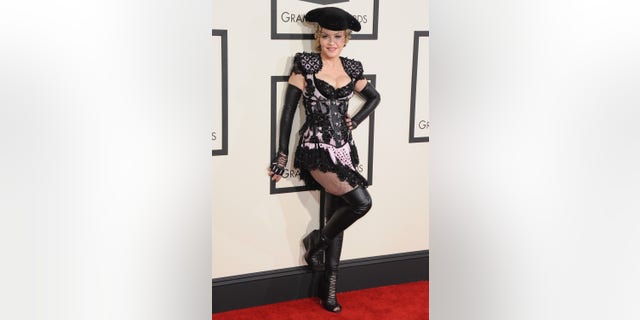 The singer wore a black Givenchy corset dress over her dress, paired with fishnet stockings and over-the-knee black boots.
Pulling the dramatic look together, Madonna wore a black hat with a black veil.
Cardi B
Cardi B attended the 2019 Grammy Awards in a vintage Mugler dress that resembled a pearl within an oyster.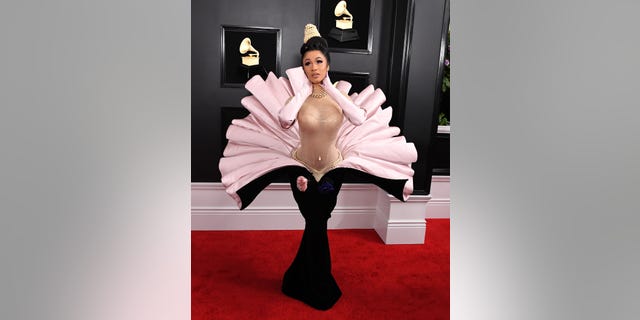 The black gown blossomed to show a pink interior, and the musician wore a tight, nude bodysuit underneath.
The rapper won her first Grammy Award that year.
Ariana Grande
Ariana Grande appeared in a gray, fluffy gown that resembled clouds at the 2020 Grammys.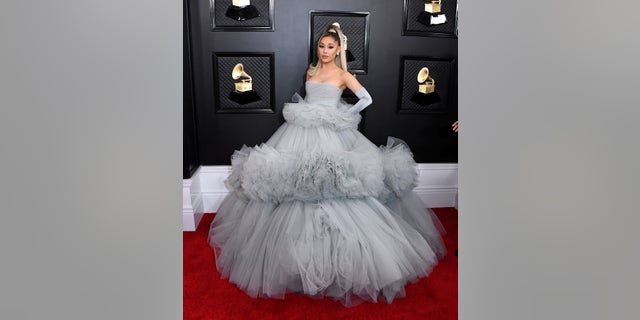 The "Thank U, Next" singer stunned the carpet in a custom Giambattista Valli gown. Sticking to her signature high-ponytail look, Grande pulled her hair up, leaving her dress to steal the show.
JENNIFER COOLIDGE SAYS CAREER WAS 'FLATLINING' AND OWES HER SUCCESS TO ARIANA GRANDE
Billy Porter
Billy Porter was seen in a remote controlled fringed hat and matching bodysuit during the 62nd annual award show.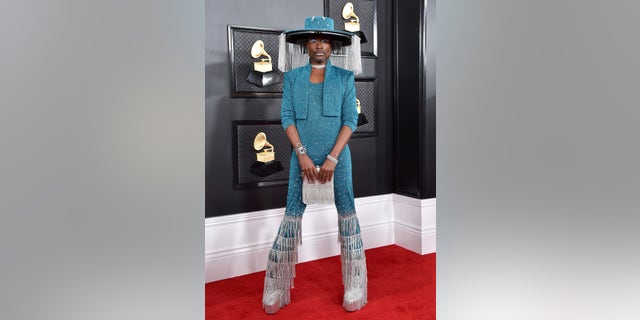 With a remote controller, the custom Scott Studenberg look would move the fringe on his hat from his hat, revealing his face.
Porter wowed in the turquoise pantsuit and paired the look with silver rhinestone boots and a matching bag. 
Dua Lipa
Dua Lipa attended the 2021 Grammy Awards in a see-through, Versace dress.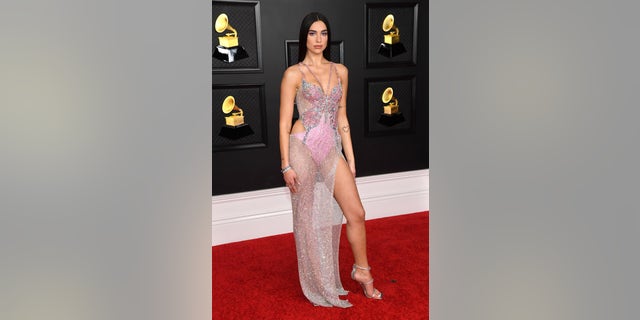 'LEVITATING' SINGER DUA LIPA NAMED HONORARY AMBASSADOR OF KOSOVO
Dua Lipa's gown featured a high slit, and she kept the rest of her look minimal, adding a bracelet and strappy heels.
Phoebe Bridgers
Phoebe Bridgers turned heads at the 2021 Grammy Awards.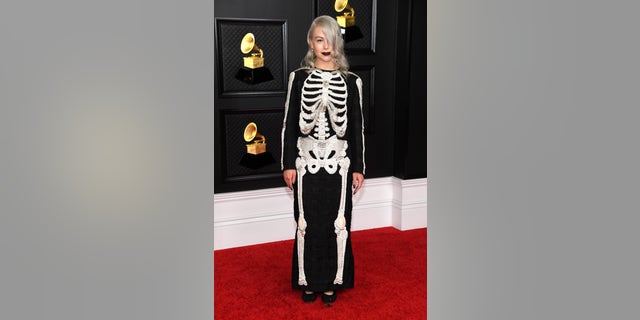 Bridgers wore a skeleton Thom Browne dress. The singer-songwriter pulled her platinum blonde locks in front of half her face
"I wear a skeleton costume all the time, but one of the reasons I do is because I saw this Thom Browne dress forever ago and thought it was so cool," Bridgers told E! News of her look at the time. "And I asked for it. I basically stole it."
CLICK HERE TO SIGN UP FOR OUR ENTERTAINMENT NEWSLETTER
Doja Cat
Doja Cat has walked the Grammys red carpet over the years, but in 2021 she followed Lopez's lead, rocking a low-cut gown. 
The singer wore a Roberto Cavalli design that fastened below her belly button.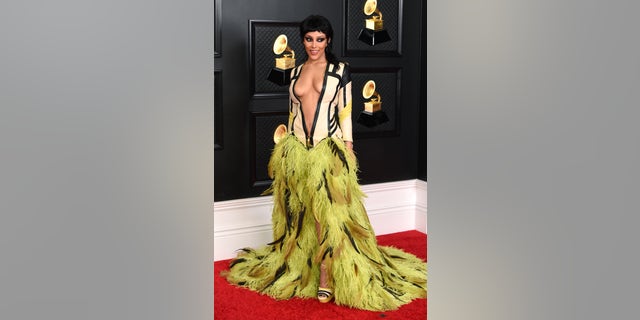 CLICK HERE TO GET THE FOX NEWS APP
The bottom half of the yellow and black dress was full of feathers. Doja Cat pulled the look together with matching heels.