Jeremy Renner is being praised as a real-life hero as more details emerge following his snowplowing accident.
The Washoe County Sheriff's Office said in an incident report, obtained by Fox News Digital, that Renner was trying to tow his nephew's truck out of the snow at his Reno, Nevada, property on a private road.
"Renner was pulled under the Pistenbully, and the track rolled over him," the report stated.
The snow machine that ran over Renner on New Year's Day is called a PistenBully and weighs at least 14,330 pounds, according to the Washoe County Sheriff's Office.
JEREMY RENNER REVEALS SNOWPLOW ACCIDENT LEFT HIM WITH '30-PLUS BROKEN BONES'
The PistenBully reportedly started to slide down a hill, prompting the Marvel actor to immediately exit the vehicle. 
However, he didn't put the emergency brake on, and the heavy-duty plow started to slide toward his nephew, who was sitting in his truck.
JEREMY RENNER SHARES HE'S HOME FROM HOSPITAL AS HE RECOVERS FROM HORRIFIC SNOWPLOW ACCIDENT
The snowplow runs on a track which must be stepped on to gain entry to the vehicle. Renner attempted to step up on that track to divert the snowplow or bring it to a halt.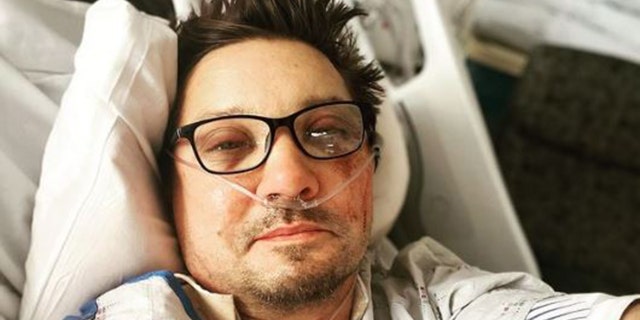 "Renner suffered injuries to his torso, extremities, face and head," the incident report added.
The "Mayor of Kingstown" star revealed over the weekend he's been taking steps to fully recover from his traumatic accident. 
He took to Instagram to share a photo of him on a hospital bed with an aide stretching his legs. 
"Morning workouts, resolutions all changed this particular new years …. Spawned from tragedy for my entire family, and quickly focused into uniting actionable love," he said in part. 
The Hollywood actor additionally revealed he broke more than 30 bones in the accident and continued to thank everyone for their thoughtful messages.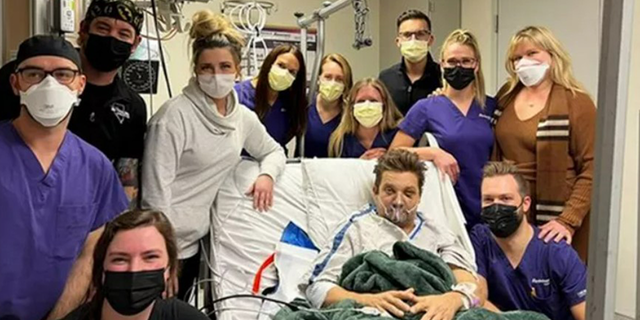 Renner was injured in an area near Mt. Rose Highway, a road linking Lake Tahoe.
On Jan. 1, representatives for Renner confirmed that the Marvel star sustained injuries.
"We can confirm that Jeremy has suffered blunt chest trauma and orthopedic injuries and has undergone surgery today, January 2nd, 2023," the statement said. "He has returned from surgery and remains in the intensive care unit in critical but stable condition."
CLICK HERE TO SIGN UP FOR THE ENTERTAINMENT NEWSLETTER
During a press conference, Washoe County Sheriff Darin Balaam recalled the New Year's Day incident when deputies responded to reports of a traumatic injury just before 9 a.m. 
Balaam said the Mt. Rose area got three feet of snow the previous night, and "multiple cars" had been abandoned overnight.
After successfully towing his own vehicle out of his driveway, Renner got out of the snowcat, and the massive snow groomer started to roll. "In an effort to stop the rolling PistenBully, Mr. Renner attempted to get back into the driver's seat," Balaam said.
On Jan, 17, the "Avengers" star shared on Twitter that he was home from the hospital. 
The 52-year-old actor responded to a tweet shared by the "Mayor of Kingstown" Twitter account about the premiere of season 2.
CLICK HERE TO GET THE FOX NEWS APP
"Outside my brain fog in recovery, I was very excited to watch episode 201 with my family at home," Renner responded.
Dr. Robert Glatter, assistant professor of emergency medicine at New York City's Lenox Hill Hospital, told Fox News Digital the accident could have been fatal. And while Renner's recovery is going well, he will likely face a difficult road, extensive rehab and potential chronic pain.