Mick Fleetwood shared his thoughts on the possibility of a Fleetwood Mac reunion following the death of longtime bandmate Christine McVie.
The 75-year-old musician told the Los Angeles Times he doesn't believe the band will perform together again after McVie died at the age of 79 in November.
"I think, right now, I truly think the line in the sand has been drawn with the loss of Chris," Fleetwood told the outlet at the 65th Annual Grammy Awards in Los Angeles Sunday night. 
"I'd say we're done, but then we've all said that before. It's sort of unthinkable right now."
FLEETWOOD MAC'S CHRISTINE MCVIE MOURNED BY STEVIE NICKS, MICK FLEETWOOD: 'SEE YOU ON THE OTHER SIDE, MY LOVE'
The U.K. native said he intends to perform again but "not as Fleetwood Mac." He noted that his current bandmates Stevie Nicks, Mike Campbell and Neil Finn as well as former member Lindsey Buckingham have stayed active performing and touring.
"They all get out and play, so I'm gonna be doing the same thing, finding people to play with," the drummer said.
At the awards show, Fleetwood was joined by Sheryl Crow and Bonnie Raitt for a tribute to McVie during the In Memoriam segment. 
The trio performed Fleetwood Mac's 1977 hit "Songbird," which McVie wrote for the band's Grammy Award-winning album "Rumours."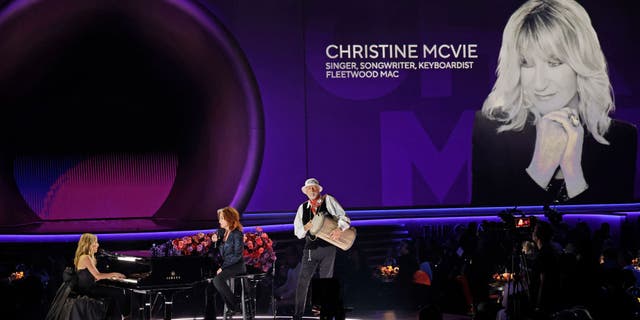 Crow played the piano as she and Raitt sang the tune while Fleetwood accompanied them on a talking drum. Ahead of the Grammys, Fleetwood reflected on honoring McVie during the ceremony. 
"It's a big moment," he told Entertainment Tonight on the red carpet at the Crypto.com arena.
"I mean, selfishly, privately it's another step in closure for having lost Chris so recently. She was very much like a sister to me, fellow band member obviously in Fleetwood Mac and a dear, dear, dear friend."
McVie's death was announced Nov. 30 in a statement shared on her official Instagram account.
"On behalf of Christine McVie's family, it is with a heavy heart we are informing you of Christine's death," the statement said. 
"She passed away peacefully at hospital this morning, Wednesday, November 30th 2022, following a short illness.
"She was in the company of her family. We kindly ask that you respect the family's privacy at this extremely painful time, and we would like everyone to keep Christine in their hearts and remember the life of an incredible human being, and revered musician who was loved universally. RIP Christine McVie."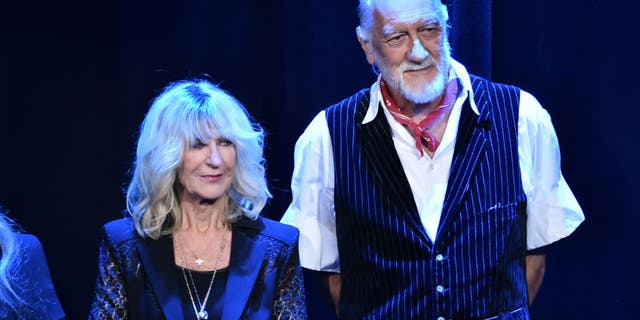 Fleetwood Mac also shared a statement on McVie's Instagram account. 
"There are no words to describe our sadness at the passing of Christine McVie," it said. "She was truly one-of-a-kind, special and talented beyond measure.
"She was the best musician anyone could have in their band and the best friend anyone could have in their life. We were so lucky to have a life with her.
"Individually and together, we cherished Christine deeply and are thankful for the amazing memories we have. She will be so very missed."
CLICK HERE TO SIGN UP FOR OUR ENTERTAINMENT NEWSLETTER
Fleetwood also paid tribute to McVie on his social media pages. He shared a note that said, "This is a day where my dear sweet Friend Christine McVie has taken to flight.. and left us earthbound folks to listen with bated breath to the sounds of that 'song bird'… reminding one and all that love is all around us to reach for and touch in this precious life that is gifted to us."
"Part of my heart has flown away today.. I will miss everything about you Christine McVie. Memories abound.. They fly to me."
The Britain-born singer-songwriter and keyboard player was the creative force behind some of Fleetwood Mac's biggest hits, including "Everywhere," "Little Lies," "Say You Love Me," "Songbird" and "Don't Stop." 
She was a steady presence in a band known for its frequent lineup changes and volatile personalities — notably Nicks and Buckingham.
CLICK HERE TO GET THE FOX NEWS APP
McVie joined the band in 1970 after marrying the band's bassist John McVie. She remained with Fleetwood Mac until 1997 when she announced she was leaving the band after developing a fear of flying. 
After years of a semi-retirement, McVie returned to the band in 2014. Fleetwood Mac embarked on a world tour that included Buckingham and Nicks. McVie and Buckingham teamed up for the 2017 album "Lindsey Buckingham/Christine McVie," which debuted at No. 17 on the Billboard 200 chart. It was the last album McVie recorded before her death.