Ray Liotta's daughter Karsen Liotta paid tribute to her late father as he was honored with a posthumous star on the Hollywood Walk of Fame.
The 24-year-old actress accepted the star on her father's behalf at the ceremony, which was held on Hollywood Boulevard in Los Angeles on a rainy Friday morning.
After the ceremony, Karsen told Fox News Digital her father was very different from the tough guy roles he was known for playing over his decades-long career.
"He was like a big teddy bear," Karsen said.
RAY LIOTTA REMEMBERED BY HIS 'GOODFELLAS' CO-STARS AND HOLLYWOOD PEERS: 'GOD IS A GOODFELLA'
"And he's always on my back. Always. I told him everything. And he was my best friend. He was there for me until the end.
"He always was, and he always will be."
The "Hubie Halloween" actress shared that accepting her father's star "meant the world" to her. 
"It really does," she said. "I know he's looking proud and thankful that I'm here. And looking down at the star, proud and thankful.
"And so it feels amazing. And it feels finally — it's about time."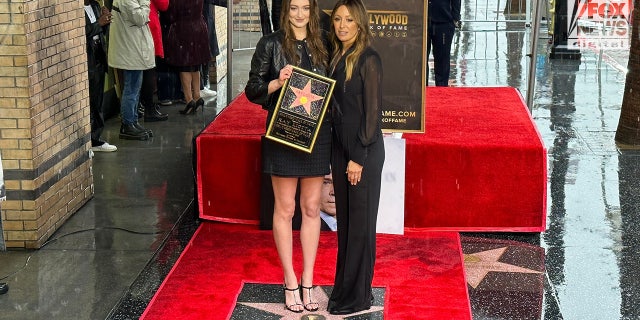 Karsen added that she hoped her father would be remembered for his hard work and the person that he was when the cameras weren't rolling.
"He was an amazing person, and he loved what he did, and he loved the people that he did it with," she told Fox News Digital.
"He worked really, really hard to get to where he was. And he deserved every minute of it. And besides all of that, he's even a better guy off screen. And that's what is most important."
Liotta shared Karsen with his ex-wife Michelle Grace, to whom he was married from 1997 to 2004. 
The "Goodfellas" star died in his sleep at the age of 67 in May in the Dominican Republic, where he was filming the upcoming thriller "Dangerous Waters." Liotta was engaged to Jacy Nittolo, 47, at the time of his death.
During the ceremony, Karsen gave an emotional speech before Liotta's star was unveiled.
"I'm so touched to be accepting this honor on behalf of my dad. I couldn't be more proud of him," the "Shades of Blue" alum said.
"If you have a Ray in your life, you're lucky. I love you so much. Thank you for your work and the imprint you left on me and all of those who love you. Everyone deserves a Ray in their life."
Other speakers at the ceremony included Elizabeth Banks, who directed Liotta in one of his last film projects, the recently-released comedy horror movie "Cocaine Bear," and Taron Egerton, who co-starred with the actor in the Apple TV+ crime series "Black Bird."
During her speech, Banks, 49, reflected on her "special bond" with Liotta as she recalled being "blown away" when she met him for the first time on the set of their 2011 movie "The Details."
"I always admired his acting, but I genuinely enjoyed him as a human," she said. 
"Although he's known for playing tough guys, I found him to be charming and a little mischievous, which made him charming as an actor and as a man and truly perfect for 'Cocaine Bear.'
"When any actor of Ray's caliber puts trust in you as a director, it's a gift. But Ray gave me so much more. Ray's respect for me as a director, as his boss on set, meant everything to me because if you can direct Henry Hill, you can do f—ing anything in this town."
CLICK HERE TO SIGN UP FOR THE ENTERTAINMENT NEWSLETTER
"The Hunger Games" alum also shared the story of how Liotta discovered his Irish heritage while filming "Cocaine Bear" in Ireland. She told the crowd that Liotta, who was adopted, had always believed he was Scottish and Italian. However, while addressing the cast and crew during a speech after the film wrapped, Liotta said that a genealogy test revealed that he was "85 percent Irish."
"I'm heartbroken that he isn't here enjoying this with us and laughing at this rain," she said. "But I'm grateful to the Chamber of Commerce for marking this spot with his name. And I'm grateful that I got to hug Ray a couple of weeks before he passed, and I got to show him our zany movie.
"And boy, am I grateful that he laughed and said, 'Good job.''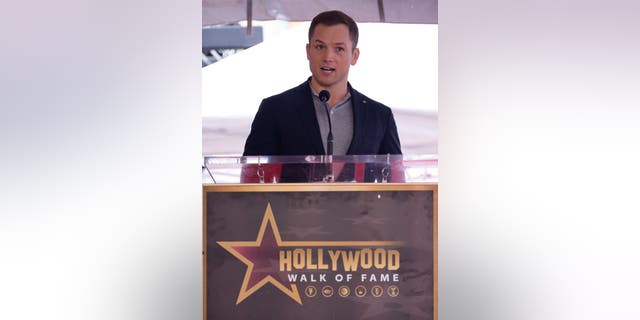 In his speech, Egerton, 33, recalled being inspired by Liotta when they worked together on "Black Bird." In the series, Liotta played the father of Egerton's character, Jimmy.
"He was one of those rare artists that brought all of himself into his work, all of his intensity, all of his vulnerability and, in the case of our show, all of his love," he said. "I was deeply inspired by Ray. He was the epitome of an actor's actor."
CLICK HERE TO GET THE FOX NEWS APP
Liotta was honored with the 2,749th star on the Hollywood Walk of Fame and Feb. 24 was proclaimed "Ray Liotta Day."
"Cocaine Bear" opened in theaters Friday.